Donald Trump and his surrogates have become rather worried about Evan McMullin's chances in Utah. In several polls he's either been tied for first place or is within striking distance. (Most still have Trump ahead) The last week he's been the talk of the media with many seriously thinking he has a chance. Last week noted Fox News host Lou Dobbs made an unfortunate attack on McMullin saying he's helping the "Mormon Mafia" affect the election results. This led to a slew of rather hilarious tweets mocking the idea of a Mormon Mafia. Around the same time various stories started spreading innuendo about McMullin both because he's single but also because his mother apparently married an other woman after getting a divorce.[1] I don't want to delve too far into McMullin. Just because he's attacked unfairly doesn't mean he deserves your vote. Despite being a conservative and thinking a lot about this election, I'm honestly not sure who I'm voting for yet. I just wanted to note how in the past attacking a candidate's family status has been a very counterproductive strategy within the Mormon community.

This isn't the first time this strategy has been tried. Way back when I was at BYU there was a race between Republican Karl Snow and Bill Orton for the 3rd congressional district. Now even then the Provo area was one of the more conservative districts in the United States. Snow was well ahead most of the election. Towards the end, partially due to some opposition from the infamous BYU paper The Student Review, Snow started doing some rather distasteful attack ads. Some were the sort expected in campaigns (some unpaid taxes on a car exaggerated somewhat). Still Snow lead handily.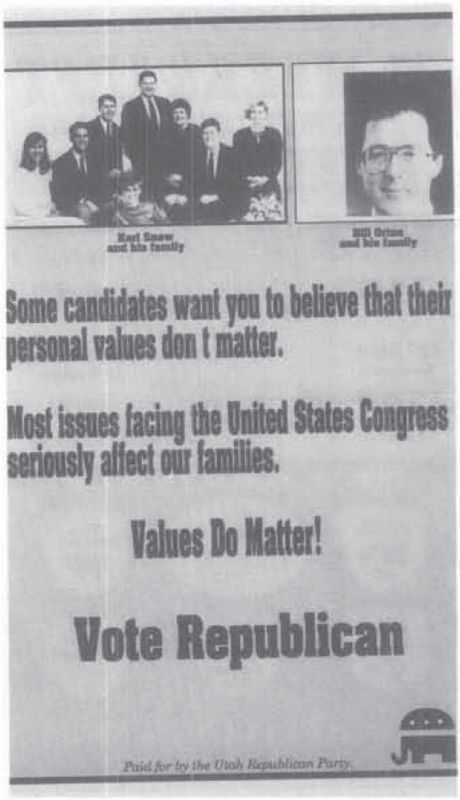 Four days before the election things changed. Karl Snow's financial chairman brought up Orton's age (then 42) and his never being married. He was quoted in the media saying that "Bill Orton is not fit for life much less Congress" due to his not being married. Two days later an infamous full page ad was placed in the Utah County Journal. It showed a picture of Snow with his family and a picture of Bill Orton alone with the caption "Bill Orton and His Family." The body text of the ad read, "Some candidates want you to believe that their personal values don t [sic] matter. Most issues facing the United States Congress seriously affect our families. Values do matter! Vote Republican." At the bottom of the ad is read "Paid for by the Utah Republican Party."[2]
To say the ad turned things around for Snow would be an understatement. In this heavily GOP district Democrat Orton won with 58% to Snows 37%. It was one of the then largest margins of any non incumbent race in the US.
It's hard to forget the lesson that while Mormons think family is extremely important they also strongly dislike attacking people for not being marriage. Maybe I remember this story since I ended up marrying quite late. (I married at 36 and recall being perhaps a tad touchy about innuendo about my singleness) There is a certain sense of propriety Mormons seem to associate with such matters especially in a political race.
We're now seeing many attacks on McMullin that parallel that Orton race from 25 years ago. While not directly from the Trump campaign, there is a robocall that started today "warning" people about McMullin's personal life and saying McMullin is a "closet homosexual." Contrary to many reports going around Facebook or Twitter, McMullin has as best I can see been pretty upfront about this. He said in the Salt Lake Tribune, "As far as my mother's marriage is concerned, I believe in the sanctity of traditional marriage. It is an important part of my faith. My mother has a different view. That is OK. I love her very much, and she is one of my best friends." Regarding marriage he said he is "hopeful and optimistic that that will happen soon. … My greatest aspiration is to be a husband and father."
This isn't the only attack on McMullin that will be distasteful to Mormons. The alt-right fringe had a widely cited tweet threatening an other genocide on Mormons if Trump loses. (They called it the Mormocaust to tie it in with both the Missouri persecutions and extermination order as well as their tendency to bring up Nazi death camps to people critical of Trump)
[1] I first encountered this in a rather disturbing video passed along the Mormon Facebook crowd. The video is more or less arguing for why a Mormon shouldn't vote for McMullin. But the innuendo in it really bothered me a great deal. The implication seems to be that because of something beyond his control (his mother's marriage) he is not to be trusted on family issues. His singleness was also hinted at as being a problem. The clear implication is that there was a chance McMullin was gay. It's quite in keeping with disturbing approaches by many Trump supporters to cast a skeptical and often uncritical eye towards others they are unwilling to do to their own candidate.
[2] I couldn't find a copy of the original ad. The text in the above comes from "How to Win Friends and Influence Republicans" originally published in 1991 in the Clark Memorandum. It matches my memory of events though. The Student Review at the time was publishing quite a lot on Snow. While I wasn't associated with the Review I hung out with many of the main figures in the tutorial labs in the basement of the testing center. I also worked with them on a more technical journal a lot of the same figures published. So I heard a lot of this there. The article doesn't mention the Student Review but I seem to recall it having an impact on the race.
Edit: Marc Bohn noted that Times and Seasons did a story on Orton a few years back. It included the ad which I'm adding to this post.