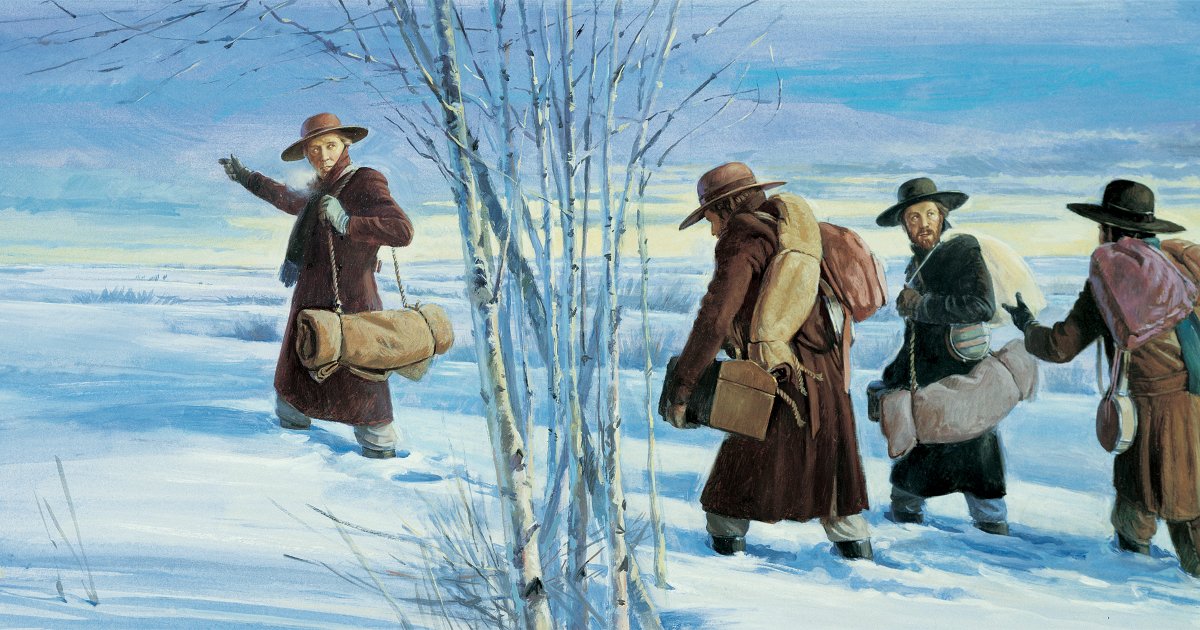 Early in 1831 Joseph Smith sent missionaries to Jackson County, Missouri, telling them to preach along the way (see section 52). He then traveled to Independence himself and then gave these same Elders further instructions, suggesting that they should continue to share the gospel. The Prophet then travelled back to Kirtland with some of these same Elders, and along the way received two additional revelations, concerning the Lord's power to deliver his servants, and the need for Church members to make some decisions themselves.
Sharing the Gospel
Today we're familiar with the idea that every member of the Church is a missionary, but in 1831 that idea wasn't obvious to members of the Church. Following the customs of other churches, many members thought that members needed a specific call to preach the gospel. But in section 60, the Lord tells recently released missionaries that they should continue to preach the gospel.
Despite this revelation, I think the relative isolation of Church members in Utah left many with the impression that involvement in missionary work was limited to those called on missions. The author of the following poem shows that church members have a role in missionary work, even if they aren't called. Heber Clegg (apparently the same as Heber Milton Clegg), was serving in the South American mission when he wrote this poem. He went on to later use his language skills to serve as an FBI agent in Rio de Janeiro, Brasil. After working for the FBI for a total 31 years, including 11 as head of the agency's Salt Lake office, he was president of the Salt Lake Stock Exchange.
"We" Not "You"
They say the work done in the field will reap a large reward,
Assistance rendered a needy soul is lauded by our Lord;
The missionary's happiness in his work is very great,
And just because he does his share that joy is adequate.
But what about the Mother with her mission far away
Who reared that boy for God's great call, inspiring him each day;
Who now prepares her younger sons that they too might fulfill
Their mission when they're called to preach from house-top or from hill?
And what about the Father who much more than does his share,
Who works and makes a sacrifice to keep his son out there;
Who tries to spare him anything that might discomfort give,
And help him with advice and love a better life to live?
His brothers and his sisters go without many things they've had;
It means more patches, fewer shows; yet they are all so glad
To do their best to help the work out where their Brother is
That ne'er a hint of cares at home are spoken of as "his."
We can't all tract and talk and preach – there's other things to do,
The mission is abroad and home, each knows what he should do.
Oh, Mother, Father, Sister, Brother, Sweetheart, and friends, too,
The recompense is not for one – you must say "we," not "you."
Power to Deliver
Section 61 was given after Joseph Smith and some of the traveling missionaries experienced dangerous conditions while traveling down the Missouri river by canoe, and the revelation, as a result, makes clear that the Lord has the power to deliver us from dangers such as those the missionaries experienced. Of course, no one limits the power of the Lord to the Missouri, or even to water travel. And the following poem, written a decade later by Eliza R. Snow, goes on to suggest that the Lord has the power to deliver the oppressed from those who persecute or abuse us.
Invocation
O God! thou God that rules on high,

Bow down thy ear to me;

Listen, O listen to my cry—

Hear thou, my fervent plea.
Rebuke the heartless, wicked clan

That fain would do us harm;

Protect us from the power of man,

By thy Almighty arm.
Let unseen watchman wait around

To shield thy servant's head—

Let all his enemies be found

Caught in the net they spread.
Thy grace, like prairie dews distill'd,

To all his needs apply;

And let his upright heart be filled

With spirit from on high.
The work is thine—thy promise sure—

Though earth and hell oppose;

Roll, roll it onward and secure

Thy prophet from his foes.
O hide him in thy secret fold

When on his path they tred;

Safe as Elijah who of old,

Was by the ravens fed.
Bring his accusers' deeds to light,

And give thy people rest;

Eternal God! gird on thy might

And succor the oppressed.
Making Decisions
As the missionaries split up to go their own ways back to Kirtland, Ohio, they were advised by revelation to make their own decisions about how to travel, highlighting a question that Church members have still today: how much should we seek revelation for our day-to-day decisions and how often should we use our own judgment. The motivation behind this question is, of course, our fear of making a bad decision.
Poet Evelyn Fjeldsted addressed an aspect of this question in the following poem. Fjeldsted was born in Gunnison, Utah in 1885 and was a lifelong resident of that town. She never married nor had children, but did produce a single chapbook of her poetry, Valley Sketches. In this poem she suggests that in an eternal sense, our errors are not a real defeat, unless we choose to make them so.
Defeat
by 
Evelyn Fjeldsted (1949)
Defeat is not defeat unless
Our own decisions make it so –
For us, defeat can make no terms,
If we persistently say no.
There is no lasting, real defeat,
When faith illumines destiny –
Defeat will prove at length to be
A stepping stone to victory.