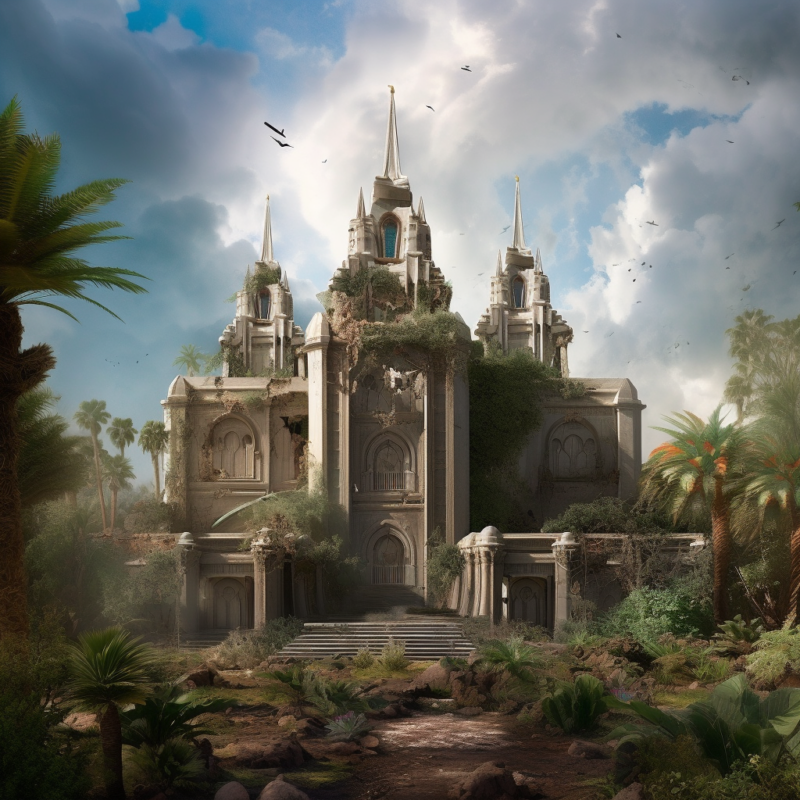 Growing up in the 90s, Church growth was conceptually tied to temple building, with announcements of additional temples assumed to be a proxy for the growth in temple attending members. 
While we aren't privy to the more precise numbers that would be required to know the true state of Church growth like the number of temple attenders broken down by age and year, from both inside and outside numbers we do have access to it's clear that Church growth is not matching the growth in temples. I threw a graph together that looks at the number of temples and stakes relative to the base year of 1978.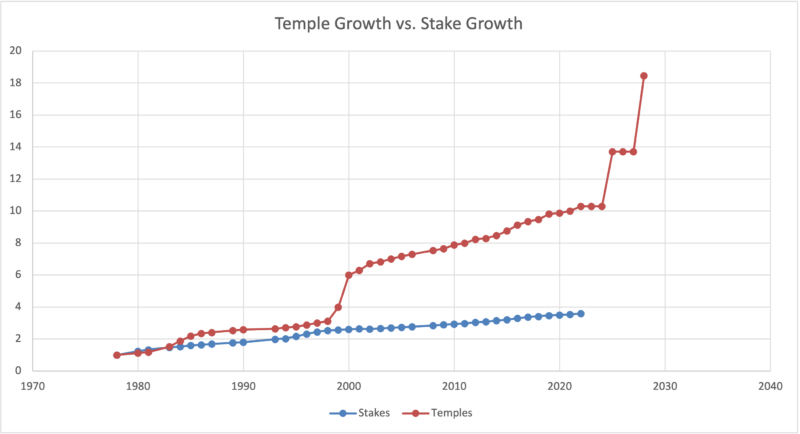 Temple growth up until the late 90s more or less tracked stake growth, then we see a huge jump near the end of the 90s. Better historians than I would have a better idea about this, but I assume the late-90s bump is from the shift to smaller temples, and the slope after the introduction of smaller temples was commensurately higher compared to stake growth.  
Everything after 2022 for temples is speculative assuming three years for all temples under construction to be dedicated and assuming 6 years for all temples announced to be dedicated. Obviously it will be smoother, and I'm a little fuzzy on how long it actually takes to  build temples, but regardless of the particulars if you look at the sheer number of temples in the announced queue, there will be a tremendous jump in the temple-to-stake ratio in the next decade or so that will dwarf the small-temple bump of the 90s in magnitude. 
Now, all this might be fine. To its credit, the Church has shifted its rhetoric from building temples to service an expanding Church to building temples to make them more accessible to members. Consequently, nobody can accuse the Church of using temple announcements as smoke-and-mirrors to hide declining growth rates (as they are commonly accused of doing online)–they themselves are not claiming that one is an indicator of the other. 
Still, temples create a simulacra of growth and can form a signature legacy for individual Church leaders (e.g. President Hinckley being known as a temple builder). I'm not saying the desire for legacy is the motivation for the current spat of temple building, just that it is a temptation we should be aware of, everybody is human, and we've been there before (the Church's optimistic overbuilding program in the early 20th century almost drove it to bankruptcy). 
I do wonder if we won't be able to keep this pace up, and at some point we'll have to pull back. If we come to expect a lot of temple announcements every General Conference, then at some point we might find ourselves with a glut. I remember the General Conference session years ago when President Monson unexpectedly announced no new temples, and being impressed with the humility to be able to do what he felt was right for the Kingdom even if it wasn't flashy (although again, I'm not implying that President Nelson is announcing new temples because it is flashy). 
Scientology is famous for building large, generally unused buildings that don't make sense give its growth rates, and on my mission I remembered a sense of moroseness when I saw grand cathedrals falling into disrepair with birds making their nests in them. Large, empty buildings is a risk we shouldn't be oblivious to, especially as Church growth isn't as robust as it once was.
Of course, making temples more accessible may significantly increase temple activity, and I assume the Church has analyzed the role of temple proximity in temple activity (if I get to the other side and find that they haven't merged that temple recommend barcode data with our addresses to do that analysis I'll be disappointed). Anecdotally, the Washington DC temple renovations severely cut into my own temple worship, and it was just about impossible to get a reservation at the Philadelphia temple for our youth groups because it was so busy. At first I wondered if the Richmond, Virginia temple might have been superfluous, but after driving several hours out to go to the open house my mind was quickly changed. 
The other day a Catholic friend of mine mentioned that there is a sort of "if you build it they will come" dynamic when a Catholic parish decides to offer more Confession sessions, with the lines having the same length whether they add a new Confession slot or not, and it's highly likely that there is a similar dynamic with temples. It could be that it makes perfect sense to build as many temples as they are now, and given how much God has gifted the Church in terms of resources, I'm not going to begrudge them using it for their religious mission until we reach the Millenium and temple attendance looks more like this.