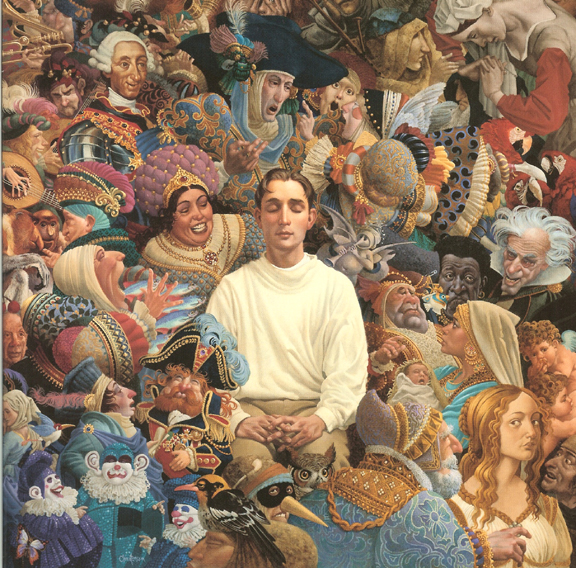 The Listener, by James Christensen
Meditation is one of those practices with religious roots that has managed to become popular even in very secular, non-believing spaces, but I haven't really caught the meditation bug. I've done a few guided meditations and have enjoyed them, but in terms of stress release I'd rather just get a massage or play soccer. On a recent podcast I listened to the guest mention that he had tried the floating tank fad and "just got bored." It was one of those moments when you hear somebody confirm something you haven't been able to admit to yourself or articulate and you realize that you're not alone.  
However, I realize I probably haven't given real, substantive meditation a chance. In my comparative religion class at BYU, the great Roger Keller put the class through a guided meditation session, and his account of his own meditation retreat at a Buddhist monastery where he spent days clearing his mind was intriguing. According to him and other accounts I've heard, because we've swum in a monkey-mind world for so long we don't even understand what a calm, focused, composed mind feels like (and this was before Twitter), and it takes a lot of intentional meditation time to really do a thorough, Marie Kondo cognitive housecleaning.  
Could I become more sensitive to the whisperings of the spirit if I cleared out the detritus in my mind? I'm open to it, and look forward to a time in my life when I have the bandwidth to undertake the functional equivalent of a Buddhist or monastic retreat. The closest I've come to that experience is the mission, where, cut off from almost all music and outside exposure for an extended period of time, the little bit of stimulation I did receive was much more enjoyable and focused (for returned missionaries, think about the first movie, modern music that you viewed/listened to after your release). 
However, Adam and Eve could not have progressed towards Godhood had they stayed in paradise and meditated for thousands of years. While I had a lot more personal contemplation time pre-mission (music and movies notwithstanding), my pace of personal development in those more relaxed, more predictable years was a fraction of what it has been since. The restored gospel places much more emphasis than other faith traditions on the need for action and experiencing both the good and the bad to be able to spiritually progress and eventually become like God. Approaching divinity is not solely a matter of meditating for a long time, although it probably helps.  
For me personally the most direct, undeniable communications with divinity I've had were unexpected ones in the midst of storms, or at least in little pockets of calm in the middle of storms, although admittedly this might be a function of my not consistently and systematically applying devotional and spiritual focus time as much as I should, and I'm open to other people experiencing intense connections with divinity in times of relative placidity through their consistent devotions. Maybe for every D&C 121 "O God, where are thou?" there is a D&C 138 "On the third of October, in the year nineteen hundred and eighteen, I sat in my room pondering over the scriptures," both leading to powerful and intimate experiences with God.