I've had a sense for a while now that people tend to exaggerate the influence of the Church on Latter-day Saint and Utah politics. Its influence is important to be sure, but some have this image that half of Utah is ready to jump when 50 North Temple Street says jump, and I've always thought it's more complicated than that.
Case in point, was there a discernible bump in vaccinations in Utah after the Church officially endorsed getting the COVID vaccine?
I looked at the total number of vaccinations administered by state across time in Utah and nearby, non-LDS states (Colorado, Utah, Kansas, New Mexico, and Montana) from the CDC data. I looked at two dates in particular: when President Nelson received the vaccine and posted about it on Facebook (January 9, 2021), and when the First Presidency officially endorsed receiving the COVID vaccination (August 12, 2021). The first date was so close to the beginning of the data (and at a time when vaccinations were not very available anyway) that I'm not putting a lot of weight on that one.
Also, I'm on the record as being very anti Utah=LDS, but in this case we simply don't have vaccination status/affiliation time-trend data that I'm aware of, so the other half of Utah may be watering down an LDS effect. In the graph below (apologies for its size. For some reason the JPEG isn't playing nice with WordPress so I had to shrink it down) everything in orange is Utah after President Nelson received the vaccine. (And yes, I know that there are points in the data where the running sum illogically dips lower with time; I hand checked those and it does look like a data quality problem on their end). Everything in red is Utah after the Church officially endorsed the vaccine. As you can see, while the total number of vaccines administered did increase, these were generally in concert with pre-existing trends, and such trends were also seen in other, non-LDS states. So again, while there may be some small "Follow the Prophet" effect that we're not picking up here because the Latter-day Saint population is watered down by non-Latter-day Saint Utahns, on the face of it it doesn't look like official letters read over the pulpit have a huge effect.
This in turn has implications for a perennial favorite of the blogosphere: what social issue the blogger thinks the Church should address in the next general conference. I think this is a favorite precisely because of this perception that the Church can easily sway the politics and ideology of its members through the general conference bully pulpit, but I actually doubt that's true, or at least that it's that simple. If Elder so-and-so had a talk about why no-kill animal shelters are great, animal rights types would cheer for a few news cycles, but in the end I doubt we'd actually see much of an increase in the use of no-kill animal shelters. I suspect the Church has more influence on, say, Utah state legislators, but I just don't think official positions do much to change deep-seated ideologies at the individual level, be they conservative or liberal.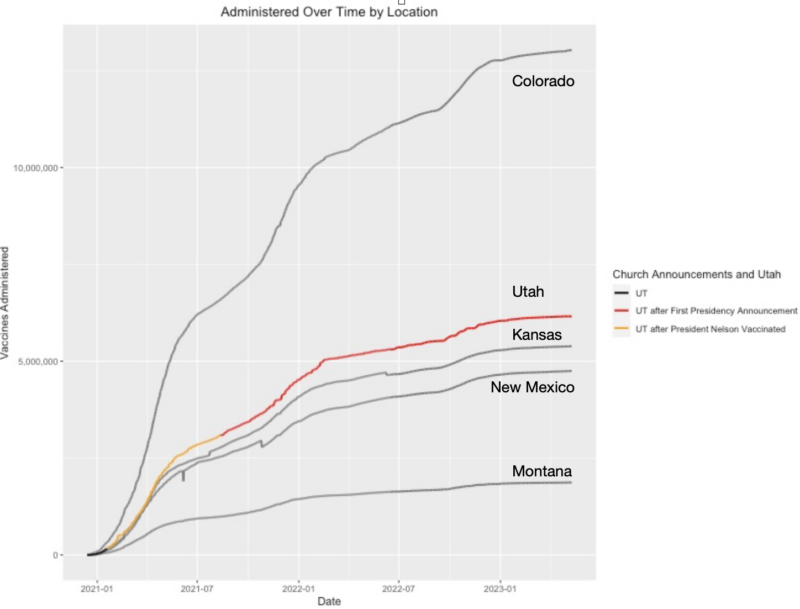 *****Wonk start
I was thinking about maybe turning this into a journal article about the influence (or lack thereof) of religious elites, and I tried to do a formal, simple difference-in-difference test, but the results were very sensitive to which set of states were used as the controls, as well as the timeframe used (one month before and after, two months before and after, etc.). DID is typically used for time-trend rates, not totals, but in theory I don't see why the same analysis wouldn't work for the latter.
It quickly became apparent that formally testing for a "Follow the Prophet" effect with the precision and rigor demanded for a formal, peer-reviewed context the would take more time than I have as somebody with a day job, but informally the graph, I think, shows that the effect, if it does exist, is not huge. But for what it's worth the difference-in-difference code is in my Github here, although it hasn't been thoroughly quality checked, so caveat emptor if anybody is interested in picking up the baton.
****Wonk end