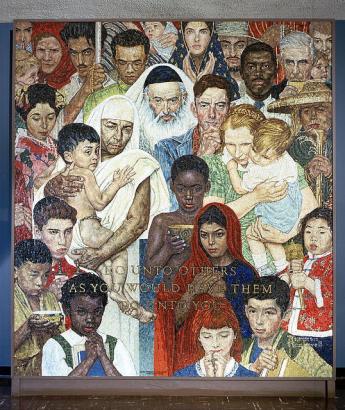 I thought it would be interesting to run some basic numbers on how many people from different groups we could expect in our wards and other associations if they were representative. There are a number of takeaways here. First, if there aren't this many people in your ward, Elder's Quorum, or what have you, then your Church experience is non-representative of the US and that should be acknowledged. Second, in the case of demographics that aren't as easily visible or selective by religion these numbers give a reasonable estimate of how many of these different groups are in your wards and quorums, whether you're aware of them or not.
I'm looking at several tiers of associations.
First, from cursory Googling around it looks like the average American has about four close friends. So for the "some of my best friends" line you have four shots on average.
Second, the median number of Facebook friends is about 200, this is close to Dunbar's Number, which speculative evolutionary psychology suggests is the standard number of people we have the cognitive bandwidth to maintain social associations with.
Third, I'm assuming an average ward (again with wide variation, I might be off, I've never been a ward membership clerk) has about 100 consistent sacrament meeting attenders.
I'm also looking at several tiers of probabilities. Of course, in putting, say, racial or sexual minorities next to people with mental health or crime histories I'm not equating the two, rather I'm just pointing out different categories of experience that are different from the norm, and I'm not implying any equivalencies.
Within the different probabilities I'm looking at:
1 in 10: Black person, rape or attempted rape victim (obviously varies a lot by gender), felon, somebody with a drug user disorder, somebody who has had at least one major depressive episode.
1 in 50: Gay (not bisexual), Native American, person on a sex offender registry.
1 in 100: Psychopath,person who requires a wheelchair,
1 in 200:Person suffering from schizophrenia
With these probabilities, the average ward, if it's representative of the US, will have at least one psychopath, one person in a wheelchair, two gay people, two Native Americans, two people on the sex offender registry, 10 Black people, 10 rape victims, 10 felons, 10 people with a drug use disorder, and 10 people who have had at least one major depressive episode among those who are in the pews every Sunday.
An average Facebook group/Dunbar's number would have about twice that; so, for example, one person suffering from schizophrenia and two psychopaths among your Facebook friends. To be representative you should have about 20 Black, four Native American, two people in wheelchairs, and four gay Facebook friends. However, in terms of your "close friends," not having any minority close friends doesn't necessarily mean much because in 2023 our close friend groups are so small.
On one hand I'm a little dubious when people protest that many of their best friends are sexual, gender, and racial minorities, when given our relatively small circles that's unlikely unless one is either lowering their standard for what a "close friend" is for groups that give one social cachet, or one lives in a gayberhood or something.
On the other hand, we often miss the diversity of people's experiences around us, especially among these categories that can be quite invisible to outsiders, or we project a typical experience onto our entire ward except for maybe one or two outliers. A former bishop I spoke to a long time ago mentioned that looking out at a congregation looks very different when you're more privy to the skeletons in everybody's closets, and I'd imagine that a God's eye view on our congregations would yield an even more diverse portrait.