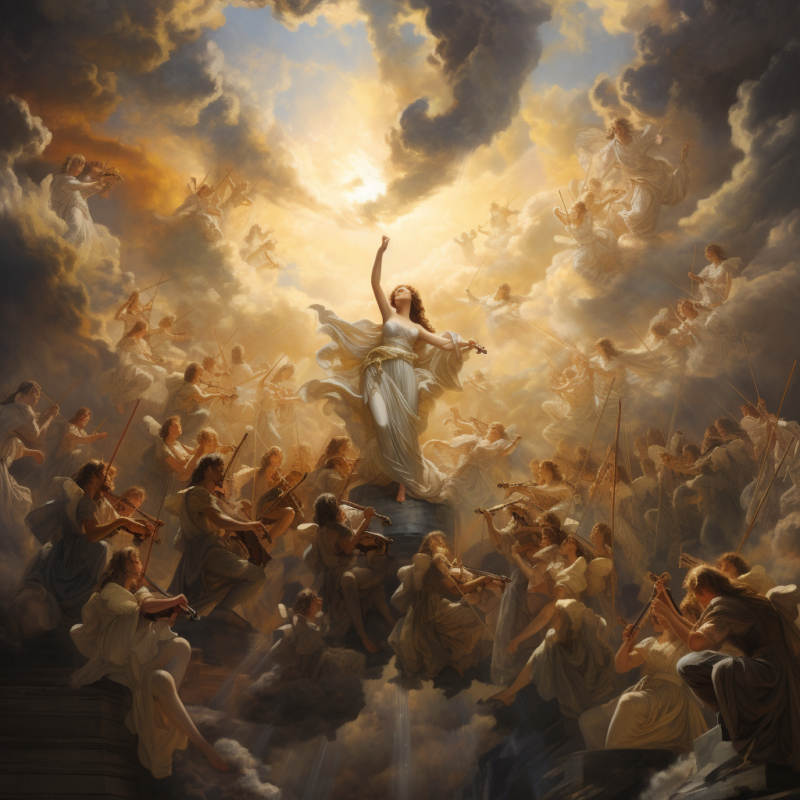 Orchestra of Angels
I'm not a musical person. I was started on the classical guitar quite early and became decently proficient at it by the time I was in Jr. High, but I just didn't have the fire to practice for hours like many in the music world have. I enjoy a good tune, but I can't tell the difference between, say, Mozart and something a graduate student would write (I actually wonder if musicologists couldn't without pre-existing knowledge of Mozart's musical corpus and it's emperors with no clothes all the way down, but I digress). 
However, there is some music whose greatness is self-evident, and you don't need musical training to recognize and appreciate how spiritually moving it is. Below is my own list, along with examples of moving renditions
Come Thou Font
The classic rendition of this we always listened to growing up, which is still my favorite, is the version in the BYU Choir's Thanksgiving of American Folk Hymns way back when. This was in the hymn book, but was taken out, and I hope the new one will have it in again. 
Ode to Joy
Piano Guys did a fun version of this, but it's also worth listening to the full orchestral version.
Hallelujah Chorus
The Church put together the largest virtual Hallelujah Chorus of all time.
Traditionally one stands for the Hallelujah Chorus. I heard it was because a king stood out of respect when it was first being played, so everybody stood and the tradition continued since then, but according to my brief Google fact check it's unknown if that story is true. 
Praise to the Man
Any proper rendition of Praise to the Man has a full pipe band. (As the father of two bagpipers I'm partial).  
Amazing Grace
As many know, Amazing Grace was written by an ex-slaver who had a conversion experience and became an ardent abolitionist after becoming a Christian. (And is the title of a moving film on the subject). 
One of the most watched movies from Noteworthy, the premiere BYU female singing group, is a stirring rendition of Amazing Grace.
Nearer my God to Thee
One of the most watched movies from Vocal Point, the premiere BYU male singing group, is a rendition of Nearer, my God, to Thee. And of course, the scene in the Titanic where the quartet plays it as the ship is going down, and finally, the excellent Netflix series Midnight Mass has several moving scenes with Nearer, my God, to Thee.
Jesu Joy of Man's Desiring
While I might not be able to pick Mozart's music out of a lineup, some of Bach's genius is self-evident. On my mission I particularly enjoyed a Stephen Sharp Nelson rendition.
All Creatures of Our God and King
I listened to this version on repeat the last week of my mission. The line "thou flowing water pure and clear, make music for thy Lord to hear" often comes to mind when I'm by a clear river. This hymn also has the distinction of having the lyrics written by a spiritual giant in his own right (St. Francis of Assisi).
If You Could Hie to Kolob
If nothing else this song wins on the grandeur of its metaphysics. I especially like the YouTube trend of playing this song to shots from space telescopes.
O Come, O Come, Emmanuel
For some reason, this hymn strikes me as sounding ancient Hebrew-like and venerable. (Although yes, I'm sure ancient Hebrew music didn't actually sound anything like this).
It is Well With My Soul
This well-known hymn has an incredible story behind it. From Wikipedia:
This hymn was written after traumatic events in Spafford's life. The first was the Great Chicago Fire of 1871, which ruined him financially (he had been a successful lawyer and had invested significantly in property in the area of Chicago that was extensively damaged by the great fire). His business interests were further hit by the economic downturn of 1873, at which time he had planned to travel to England with his family on the SS Ville du Havre, to help with D. L. Moody's upcoming evangelistic campaigns. In a late change of plan, he sent the family ahead while he was delayed on business concerning zoning problems following the Great Chicago Fire. While crossing the Atlantic Ocean, the ship sank rapidly after a collision with a sea vessel, the Loch Earn, and all four of Spafford's daughters died His wife Anna survived and sent him the now famous telegram, "Saved alone …". Shortly afterwards, as Spafford traveled to meet his grieving wife, he was inspired to write these words as his ship passed near where his daughters had died Bliss called his tune Ville du Havre, from the name of the stricken vessel.
Other Hymns With Stories Behind Them
How Firm a Foundation is from a scripture in Isaiah, Nearer My God To Thee, is based on Abraham's vision of a ladder ascending to heaven in Genesis 28:20-22, For the Beauty of the Earth was inspired by the Avon river, America the Beautiful was inspired by Pike's Peak, and How Great Thou Art was inspired by the Carpathian Mountains. Finally, I Need Thee Every Hour was written by a housewife while she was going about her daily housework.
Come, Come Ye Saints; The Spirit of God
These two are what I would consider to be the iconic Latter-day Saint songs. I can't thing of any rendition that particularly sticks out. They're all good.
Pachelbel's Canon
This is a fun Piano Guys version of this classic. Also moving in its more serious versions.