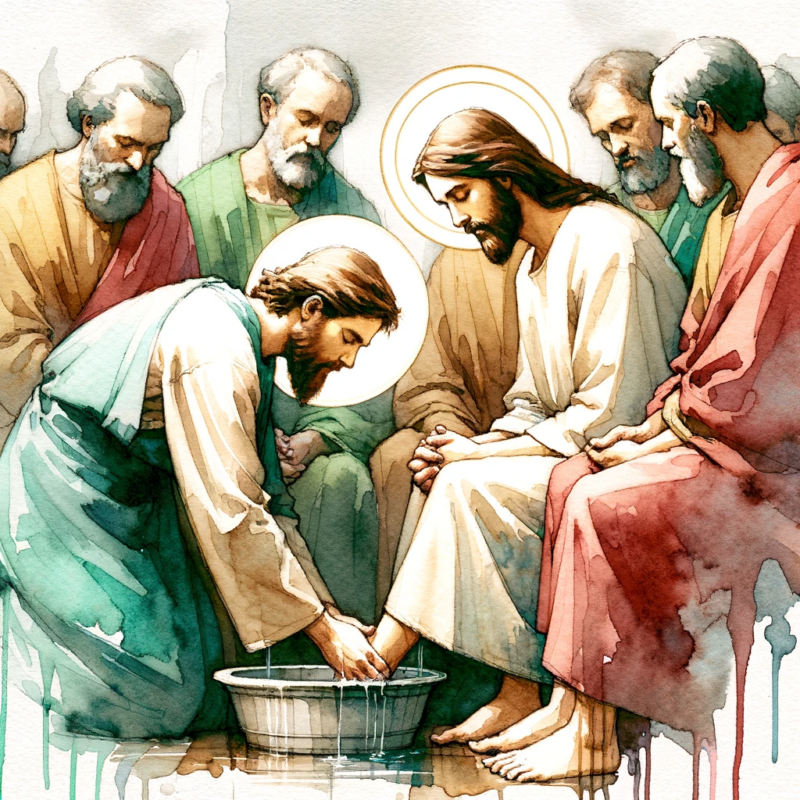 Dalle-3 image. I tried to make a highly watercolor-ish version of Christ washing the Apostle's feet, but in the end couldn't get rid of the halos. 
There is a certain class of very online member and ex-member that seems to have a particular relish for finding the faults of leaders. Of course, relishing in the personal failings of others is by definition anti-Christian. We are required to grant grace to people unconditionally. 
But even if it's wrong and can lead to soul-cankering spite, I still kind of get it. 
When a particularly elitist or judgmental leader gets his comeuppance and his failings are laid bare there can be some understandable schadenfreude, or even a schadenfreude-by-proxy when it happens to one of his colleagues. A derivation of JST Matthew 7 is that if you judge others unrighteously (and sometimes righteously), then you too will be judged, sometimes by those you presume to judge. You can't hold leaders up to some ethereal plane of existence but then ask for understanding of their humanity when the awkward subject of serious leadership failings comes up; you can't have your cake and eat it too. 
When I was a missionary my then-mission president (who I do not think reads T&S, plus with visa waiting I had three mission presidents, plus besides some silly little things was a spiritually powerful man I was privileged to serve under) would ask me the question "why are you on a mission?" during each of our interviews. I gave him a heartfelt, and I felt spiritually substantive answer, but each time he kind of gave me a gentle but straightforward "*urrr, wrong answer*" type response. 
He made it clear that, as I matured spiritually, that the right answer would come to me. He continued to ask me the question, and I guess I continued to get it wrong, and I'm still not sure exactly answer he was fishing for that was the password for being in the "with it" category. Thankfully, at that point I was anchored and had matured enough to not put a lot of weight on the significance of his little sphinx-riddle, but it's an example of something I've seen occasionally in the Church: unnecessary spiritual hierarchies reinforced with overly simplistic heuristics. There is a clear dichotomy between the people who get it and the people who didn't, and Church leaders have special insight into who falls into which category. If leaders are seen as having particular insight, and according to their insight you are in the spiritual underclass, then yes, it's natural (even if still wrong) to take a little relish when their discernment about people is shown to be demonstrably lacking. 
When we implicitly but clearly spiritually rank order people, either based on their callings or some other mechanism, and whether intended or not, that creates a sort of spiritual hierarchy that otherizes the spiritual underclass. To some extent this is a risk inherent to having any organization, and I'm not calling for some revolution in Church governance. It all depends on how necessary hierarchy is handled, and I think most Church leaders handle it quite well. 
Still, little socio-cultural-institutional otherizations can add up (e.g. the YM/YW emphasis on "future leaders of the Church," believing blood theology, prosperity gospel explanations for the connection between callings and wealth, and anything explicit in an interview that compares one's spirituality or worthiness relative to others). In circumstances when the spiritual underclass has been implicitly fed a subtle but steady diet of messaging that they are spiritually lower, it does become quite juicy when some major failing of a Church leader past or present, especially those that seemed a little more on the elite or taciturn, judgmental side, becomes public. 
Reinforcing spiritual elitism, and placing leaders on pedestals that are higher than they organizationally need to be (and as a logical corollary, placing the rank-and-file, spiritual lumpenproletariat lower than they need to be), makes it all the worse for the Church when the former's failings (some quite serious) are made bare. (When the failing is grave, I do appreciate how the Church makes the institutional consequences of sin much more serious the higher up the leader is–there are a lot of other religious institutions that will remain nameless that could learn something here.) In contrast, moving away from the idea that high leadership is a fundamentally different spiritual species commensurately makes it much less dramatic and impactful when their weaknesses are shouted from the Twitter housetops. 
It can be profound and moving when religion openly leans away from the tokens of elitism and hierarchies–for example, in the feet washing ordinance found in various faiths, including ours, or in the Pope's title as the "servant of the servants of God." Was Lazarus a mover and shaker in the early Christian Church? What about the the wise men? The scriptures are replete with stories of the righteous, often unnamed, who, as far as we can tell, were not leaders in the institution of the Church and whose quiet devotions merit a brief but profound mention. Elder Bednar's talk in the last general conference on "They of the Last Wagon" was a powerful sermon on this point. 
Unnecessarily reinforcing status hierarchies within elite and human families and members might be the kind of thing that institutions and natural men are prone to, but ultimately doing so can cause problems down the road of its own making. In the marvelous film Little Miss Sunshine, the tragic protagonist figure of the wannabe motivational speaker states that  "there are two kinds of people in this world, there are winners and there are losers" (sounds like some zone leaders), with the rest of the film implicitly mocking his aspirations as his own life clearly slides into the latter category. While it might be tempting to rank order people, Christian theology is clear that ontologically there is only one Winner, and we are all in the same category as losers, and personal spirituality is complex enough that I would not be surprised if the arm of flesh typically has little real idea how someone is rank ordered in the eyes of God.