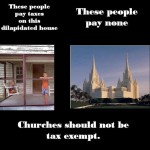 There is, I've been told, a Facebook meme going around, juxtaposing a decaying house and the San Diego temple to support the argument that churches should not be exempt from taxation.
And, like Facebook memes everywhere, this one is dumb. Dumb primarily because it is a tautology that doesn't say anything. Because of course a tax-exempt organization does not pay taxes that a non-exempt individual pays. That's pretty much the definition of tax exemption.
Of course, saying that a Facebook meme is dumb and tautological makes for a pretty short and boring post. Far more interesting, imho, is to take seriously the point that the people spreading the picture are trying to make, and complicating that rhetorical picture a little bit.